Being a custom printing wholesaler in China, JinYu offers custom printing services both for small size and large size graphics. Our Custom printed products include various custom printing flags, custom signs and banners, table throws, canopy tents, pop up A-frame banners, tradeshow banners and so on. And all of our custom printing products come with high quality and full color designed. With a variety of custom printing sizes, our custom printing products are good for indoor, outdoor and tradeshow use. Signs come in a wide variety of sizes and materials. Some signs are portable, and some are permanent. Some serve their purpose indoors, while others can withstand exposure to outdoor elements. Therefore, we should consider these factors when deciding on which one is the best outdoor or indoor sign solution.
Custom Printing
From custom flags and custom banners, custom trade show signage and accessories, as a custom flag & banner printing company, we have got everything you need to impress your customers. Custom banners include custom vinyl printing, custom outdoor banners, custom signs and banners, custom retractable banner and so on. As for custom printing services, you can choose custom vinyl printing, custom poster printing, custom flag printing, custom banner printing, flag printing and so on. With our comprehensive range, you'll fulfil any requirement with confidence.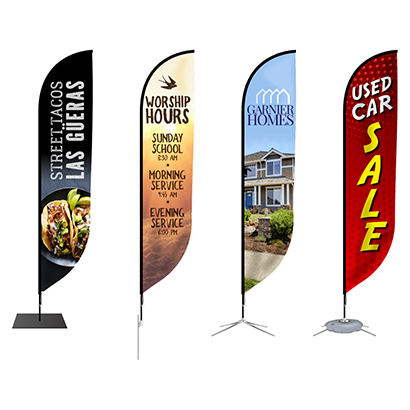 Custom Flag
Lightweight and easy to set up, can be used both indoors and outdoors. A variety of sturdy flag bases and flag poles are optional.
Read More